It might have been posted on here before.. but are any of you guys going to Wacken Open Air? The boys will be playing there. It seems like they are being booked for one additional metal festival per year.
https://www.wacken.com/de/programm/band ... -of-mercy/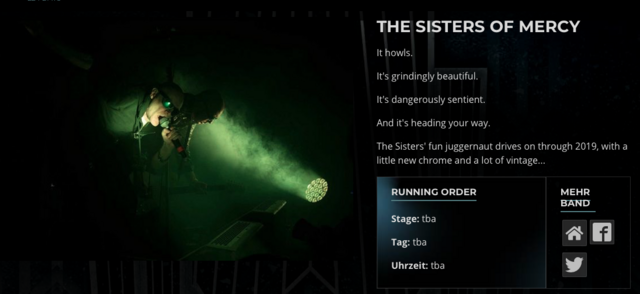 BIOGRAPHY
It howls.

It's grindingly beautiful.

It's dangerously sentient.

And it's heading your way.

The Sisters' fun juggernaut drives on through 2019, with a little new chrome and a lot of vintage attitude.

It still comes from northern England.

It still sounds like supercharged industrial psychedelia.

We have some old songs, some new songs, a few blinding lights and very many smoke machines.

People seem to like the colours. Or the energy. Or something.

Metal Hammer says, "The Sisters Of Mercy are ... a lean glittering groove machine for the New Millennium."

That's not going to stop us.

The Sisters Of Mercy are:

Chris Catalyst - guitars
Ben Christo - guitars
Andrew Eldritch - vocals
Nurse - nurse to the Doktor
Doktor Avalanche - drum and bass

Chris Catalyst eats daleks, so he plays the guitar.
Ben Christo loves you, so he plays the guitar.
Andrew Eldritch would like to believe in redemption, so he sings the songs very quietly.
Nurse is the right hand Of God.
Doktor Avalanche is God.
Tickets
!!SOLD OUT!!
Roll call:
Setlist
More
Ribbons
Crash & Burn
Doctor Jeep / Detonation Boulevard
When you don't see me
(We are the same) Susanne
No time to cry
Marian
Alice
Arms
First & Last & Always
Dominion / Mother Russia
Vision Thing
This Corrosion
Temple of love